Following the revelation of a longer surveillance footage, Lauren Boebert recanted original assertions her spokespeople had made about her vaping during a theatre performance last week.
On September 10, footage from the Beetlejuice performance in Denver, Colorado, appeared to show that the congresswoman, a Republican from Colorado, had been escorted out. The establishment said that it was in response to allegations of vaping, singing, using cellphones, and generating a nuisance.
She and a male companion were allegedly groping each other inappropriately during the Beetlejuice performance in Denver, according to extended video that was later released.
Here's what happened when…
Tuesday, September 12
The Denver Post first reports that Boebert was asked to leave a Beetlejuice musical performance that had taken place the Sunday before at the Buell Theatre in Denver.
Journalists were able to obtain an incident report from the theater's operator, Denver Arts & Venues, which stated that two unnamed customers were asked to leave the theatre after receiving a warning for their disruptive behaviour during the interval.
Boebert appeared to respond to the incident, admitting in a post on X, formerly Twitter, to "laughing and singing too loud."
She said in the post that she had "completely enjoyed the AMAZING Beetlejuice at the Buell Theatre and I plead guilty to laughing and singing too loud." "If you have a chance to see it this week, everyone should do so, and please let me know how it ends!"
Officials from the theatre claimed that at least three other visitors and a number of ushers observed Boebert and her friend using their phones and vaping. They were cautioned once more and told they "needed to be respectful to their neighbours."
A theatre representative radioed that there had been another complaint about the audience members "being loud" and using their phones to record approximately five minutes into the musical's second act, according to the incident report. The theater's security manager was then ordered to escort the customers out after employees alerted the Denver Police Department.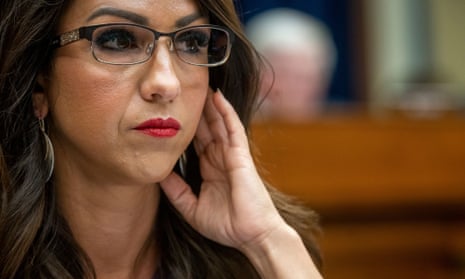 The theatre staff claimed that they were warned that if they didn't leave, they would be breaking the law. The report further stated that after disputing with personnel, they left "on their own" but reacted violently in the entryway.
The theater worker recorded that: "I speak to the patrons in the vestibule, again telling them they have to leave the property and they argue. "They say stuff like, 'Do you know who I am?' 'I am on the board.' 'I will be contacting the mayor.'"
Wednesday, September 13
Released surveillance video shows Boebert being led from the theatre. The manager of the theatre distributed videos that were up to just over four minutes long.
In the videos, two staff workers approach Boebert and a male buddy who are seated adjacent to the aisle.
The two had a brief conversation before leaving their seats and being led outside the auditorium by two men with earpieces. Boebert and her companion can be seen leaving the theatre outside while holding hands at the end of the footage.
Boebert appears to point a finger at the two guys leading her outside at one point in the video. The lawmaker was allegedly "flipping security the bird," according to an X user, although this was not immediately apparent in the video.
Although Boebert's campaign manager acknowledged that she had been ejected, she insists that she was not vaping and places the blame for the rumours on the usage of electronic cigarettes and large fog machines throughout the performance.
"I can confirm the stunning and salacious rumors: in her personal time, congresswoman Lauren Boebert is indeed a supporter of the performing arts (gasp!)," Drew Sexton told The Post. He said Boebert "pleads guilty to singing along, laughing and enjoying herself," adding that the congresswoman encourages people to go see the musical.
Friday, September 15
New footage reveals that Boebert was vaping inside the theater.
Boebert can be seen talking with a male friend and vaping in CCTV footage. The congresswoman can be seen dancing and taking pictures of the performance with her phone in additional video.
Saturday, September 16
After the video of Boebert vaping and snapping pictures was made public, she apologised, reversing the earlier statement made by her spokeswoman.
In a statement, the House Republican said she "fell short of my values" and "genuinely did not recall vaping that evening," adding: "That's unacceptable, and I'm sorry."
Though it wasn't specifically mentioned in her apology, video also appears to show Boebert getting touched by a male companion and touching him in return. The companion in the video looked to be groping Boebert's breasts as she reciprocated by grabbing for his groyne region.
Because of the video, Boebert faces backlash after earlier criticising drag queens for "sexualizing public spaces."
In her statement, the Colorado politician said: "The past few days have been difficult and humbling, and I'm truly sorry for the unwanted attention my Sunday evening in Denver has brought to the community. While none of my actions or words as a private citizen that night were intended to be malicious or meant to cause harm, the reality is they did and I regret that."
Boebert added: "There's no perfect blueprint for going through a public and difficult divorce, which over the past few months has made for a challenging personal time for me and my entire family. I've tried to handle it with strength and grace as best I can, but I simply fell short of my values on Sunday. That's unacceptable, and I'm sorry."
The congresswoman announced in May that she had filed for divorce from her husband of 18 years, Jayson Boebert.
Boebert added that she genuinely did not recall vaping during the performance before the video was released: "Whether it was the excitement of seeing a much-anticipated production or the natural anxiety of being in a new environment, I genuinely did not recall vaping that evening when I discussed the night's events with my campaign team while confirming my enthusiasm for the musical.
"Regardless of my belief, it's clear now that was not accurate; it was not my or my campaign's intention to mislead, but we do understand the nature of how this looks. We know we will have to work to earn your trust back and it may not happen overnight, but we will do it," Boebert said.